Hose Connectors
Hose Splice Connectors are used for splicing two smaller hoses together to create a longer overall hose length. They are available in Rubber or Aluminum.

In-Stock & Ready to Ship!

Download Spec Sheet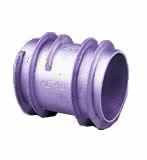 ** NOTE: The ACT 40-20 hose will only work with the AC40 hose connector, and will not work with the SP40 connector. This is the only hose with this exception.
Choose Size/Material